Happy Choosing Day, bloggy friends! I'm SO excited to be Team Amity, and I'm even more excited because I think that, with your help, we can win! If you're at a loss as to what I'm talking about, you might want to check out this post.
Below are the other incredible bloggers with whom I'll help lead Team Amity to victory!
We have an amazing month of giveaways, activities, prizes and more in store for all of you, not the least of which are the two giveaways we already having going...
My individual giveaway will be going up Thursday, and trust me, you don't want to miss it! Until then, here's what you can do to help us out!
Put our button on your blog: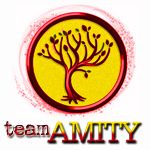 Support #TeamAmity on Twitter! The more hashtags with that little lovely, the merrier!
Oh, and if you haven't seen the book trailer for Insurgent yet, I highly recommend checking it out below. You certainly will not be disappointed! Be sure to check in with all the
Team Amity
blogs in the coming weeks, as we'll keep providing giveaways, puzzles, cover fun and more to keep you stoked for this brilliant new release!